So What Song Lyrics – BTS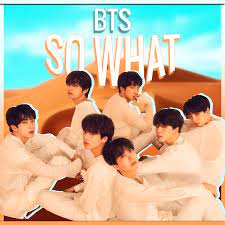 So What Song Lyrics – BTS
Song Name : So What
Singer : BTS
Music Director : BTS
Lyrics by : BTS

So What Lyrics In English
Somebody call me right one
Somebody call me wrong
I won't care anymore
Why don't you do that too
So what
Let go
Underneath the sigh, many worries are hiding
Stop worrying, you already know everything
The moment You wanna give up in the middle of this path
Try screaming louder
So what what what
Nothing goes my way
There's fewer places for me to breathe
It's already been a while since the dice has been rolled
Hesitate and I would be swept away oh bae
90% of all worries are the figment of your imagination
Rather than worrying, Go Go don't be discouraged, cheer up
Scream So what what
We are we are we are
Young & wild & free
Worrying worrying without an answer
Don't be stuck in that
You may be at risk on top of a boundary
But let's laugh and talk and go against the wind
Let's run stupidly like a fool sometimes
Within the mistakes and tears we just go
So what
Stop standing and worrying
It's no use
Let go
You may not have an answer yet but
You can start the fight
So what
Oh oh oh oh oh oh oh oh oh oh
Oh oh oh oh oh oh
Let go
Oh oh oh oh oh oh oh oh oh oh
Oh oh oh oh oh oh
So what
Ay some people hate working
Ay some people only want to rest
Ay their pain and impoverishment
Ay when they all rush toward me
Ay what can I do uh
There's only one answer uh
Let's just have faith and run
So what?
I don't wanna die right now
I don't wanna I don't wanna fight right now
I hate worrying, life is long
Let's just go. I wanna live right now
Brake has broken so step on the accelerator
This or that, it's how people live
What's the fun if you know it all
Pain is my medal
And So what?
We are we are we are
Young & wild & free
Worrying worrying without an answer
Don't be stuck in that
You may be at risk on top of a boundary
But let's laugh and talk and go against the wind
Let's run stupidly like a fool sometimes
Within the mistakes and tears we just go
So what
Stop standing and worrying
It's no use
Let go
You may not have an answer yet but
You can start the fight
So what
Oh oh oh oh oh oh oh oh oh oh
Oh oh oh oh oh oh
Let go
Oh oh oh oh oh oh oh oh oh oh
Oh oh oh oh oh oh
Somebody call me right one
Somebody call me wrong
I won't care anymore
Why don't you do that too
So what
Stop standing and worrying
It's no use
Let go
You may not have an answer yet but
You can start the fight
So what
Oh oh oh oh oh oh oh oh oh oh
Oh oh oh oh oh oh
Let go
Oh oh oh oh oh oh oh oh oh oh
Oh oh oh oh oh oh
So what
Somebody call me right one
94
Somebody call me wrong
I won't care anymore
Why don't you do that too