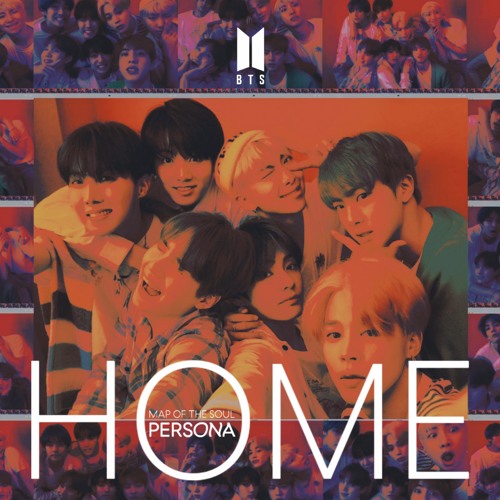 Home Song Lyrics – BTS
Song Name : Home 
Singer : BTS
Music Director : BTS
Lyrics by : BTS

Home Lyrics In English
We couldn't even greet each other
In the midst of this excitement/fluttering that drives me insane.
Yeah I'm going out baby
The entire world is my home.
Crazy for myself
I walked out of my home
As if everything would work out if I opened that door,
As if I was going to be a role model.
(I hope this mirage doesn't end as a mere imagination)
Oh yeah I did it,
Me shine with flashing lights
Got lotta friends, my peaceful personal space.
You remember? That time when I thought I could do anything?
I saw the ocean yeah
Before I even opened this door
Oh yeah
Your love you love your love
(I miss that)
Your love Your love your love
(I want that)
Your touch your touch Your touch
(I need that)
La la la la la la la I love it
The front door, where the lights are off,
My foot [that's placed there] is strange
It's strange even If I close my eyes and I'm inside this light.
This feeling of floating in the air, my spinning eyes.
In this amazing space, I'm so pitiful.
I'm so pitiful
We think we own this world
What we drew in our heads
Big house, big cars, big rings,
Even if I have everything I want
Something is still empty.
An unfamiliar feeling for someone who granted all their wishes.
But even if I leave right now, there's a place I could return to,
So I leave this door.
In this parted path,
I keep thinking about you
You who acknowledged me even though I had nothing to show/prove.
I was able to smile
When I thought of you, the place where you were.
Perhaps, that place is Mi casa
With you l'mma feel rich.
That place right there is Mi Casa
Keep the light turned on, switch
Yeah
I'll be comfortable even if you don't speak
It'll become my house as long as your there.
You know I want that
Home
You know you got that
Home
Someday, Once the doorbell rings 3 times,
Will you open the door for me?
So that I can give you the greeting that I couldn't give you thus far.
I'll tell you then.
It's been a while Mi Casa
ith you I just feel rich
I'm back Hi Mi Casa
You left it on, your switch.
Yeah
I'll be comfortable even if you don't speak
This became my house because you were there.
You know I want that
Home You know you got that
Home
Your love you love your love
68
(I miss that)
Your love Your love your love
(I want that)
Your touch your touch Your touch
(I need that)
La la la la la la la I love it